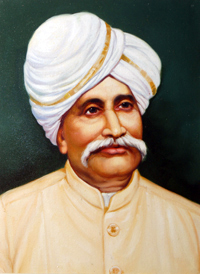 Late Sri Ammembal Subba Rao Pai
"He was a man, take him all in all, I shall not look upon his like again". An institution grows in the shadow of the founder.It was on 19th November 1852, a legend christened Ammembal Subba Rao Pai was born at Mulky near Mangaluru. This star went ahead and created a universe of its own which emanates radiance in the form of talented individuals and shall continue to emanate this radiance for time immemorial.
As a boy, Subba Rao was known to be mischievous, mediocre in studies, fond of play, a ringleader among the boys. But he was deeply respectful towards his elders and his esteem for his father amounted to reverence.
A lawyer and a banker by profession, an educationist and social reformer by temperament, he was the foremost among the pre-independence luminaries who shaped the future of Dakshina Kannada District and of the GSB Community. His concern for social uplift gave birth in 1891 of the Canara High School, Mangaluru, the century old precursor to the conglomeration of Canara Educational Institutions of today; while his spirit of enterprise gave birth to yet another national institution, the Canara Bank, in 1906.
Sri Subba Rao's versatility was not confined to the legal profession alone. Along with his professional work in the mornings, the evenings were devoted to social work. He kept himself fully informed about the fast changing world. His zeal and love for mankind touched life at all points. He was deeply saddened at the lethargy of the people towards education, and realized that there was no future for the people without widespread general and higher education in professional and technical courses. Because of his enormous efforts, our young men were seen holding high offices both in the Engineering and Medical services at then.
The seeds sown by our founder more than a century ago have grown into huge tree providing shelter to the society in terms of education, employment opportunities and financial support; thus contributing to the welfare, prosperity and progress of the society. A visionary far ahead of His times and life, Ammembal Subba Rao departed to the heavenly abode on 25th July, 1909. Though he shrugged off his mortal remains, he became a living soul and his philanthropic zeal continues to touch the lives of innumerable folks even today…!