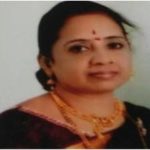 Rekha Devi K
Librarian
36 years Experience in Canara College.
Qualification
Master of Arts (M.A)

Master of Library and Information Science (M.L.I.Sc)

Publications and Research
Short Stories and articles in 'Sudha' and 'Karmaveera' Magazine
Other Activities
Participated in National Seminar LIBTRANS 2014 at Besant Evening College Mangaluru
Resource person at Canara College on 'Guru Poornima' on 27th August 2016
Convener of Library advisory committee 2014-2018
Convener of 'Erya Prashasthi' from 2015-2018
Convener of college day Reception & Invitation Committee 2016-2017, 2017-2018
Resource person at Canara College on 'Sadbhavana day' on 31-08-2017.
 Participated in National seminar conducted by the P.G Centre Library St. Philomena College, Putthur on 3 -02-2018.
Editor of the book 'Rainbow' Canarites Write, released on 20th July 2018.
Participated as chief guest at Milagrese College on 28th of August 2018.
Rekha Devi K
is
Librarian

at

Canara College
,
Mangalore

,

Karnataka

,

India
Share this page