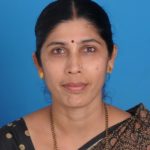 Pushpalatha
Assistant Professor - Head of the Department, Business Administration
10 years Experience in Canara College.
Academic Area: Accounting, Finance, Management and Strategy
Qualification
Master of Philosophy

Master of Commerce
Other Experience
Lecturer at Badariya College, 7 years (2002 – 2009)
Lecturer at Gokarnatheshwara College, 3 years (1997 – 1998 & 2000 – 2002)
Lecturer at S. V. Women's College, Karkala, 5 years  (1992 – 1997)
Lecturer at Government First Grade College, KKL, 1 year(1991 – 1992)
Lecturer at Government PU College, Muniyal, 1 year (1990 – 1991)
Publications and Research
Participated and presented a paper titled "Perception about Corruption and Black Money- Corruption and Black Money a Social Stigma " in UGC sponsored National Seminar on Parallel Economy and Money Laundering held on January 3 & 4 2014, at Ratna S. Shenoy Memorial Seminar Hall , Canara First Grade College Mangalore. P.No.95-100-978-81-927561-4-1.
Other Activities
HOD of Business Management since 2012-13
NSS Programme Officer from 1994-1997 and from 2009-2012.
Organised University Level NSS Fest on March 5th 2012.
Organised Dental Camp in association with KMC Mangalore at Kodman at NSS Annual Camp held in the year 2011.
Organised Street play on AIDS Awareness under RED RIBBON Club NSS Annual Camp held in the year 2011.
Resource Person for BBM syllabus Renewal, held in SDM College, Mangalore in December, 2010.
Pushpalatha
is
Assistant Professor - Head of the Department, Business Administration

at

Canara College
,
Mangalore

,

Karnataka

,

India
Share this page