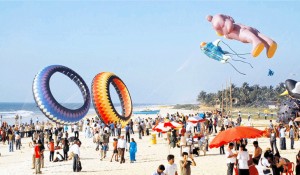 Mangalore is an important city in Karnataka and is situated on the west coast. After integration the city is developing fast in all directions viz. in the field of education, industry and commerce.
Mangalore is located at 12°-52'N latitude and 74°-49'E longitude. The city is located in the confluence of Nethravathi and Gurupura rivers. It is bound in the east by the Western Ghats and in the west by the Arabian Sea. Three National Highways viz., NH-17 linking Panvel and Kanyakumari, NH-48 linking Mangalore and Bangalore, NH-13 linking Mangalore and Solapur pass through the city. A domestic Airport is located at Bajpe, which is 15 km from city connecting it to Mumbai and Bangalore.
The name Mangalore is the anglicised version of Mangaluru, the name for the city in the local Kannada language. The Malayalam language variant of the same is Mangalapuram. One of the earliest references to this name is made by Pandya King Chettian, who called the city as Managalapuram in 715 AD. Yet another historical reference is by the 11th century Arabian traveler Ibn Batuta, whose chronicles refer to Mangalore as Manjarur. This variation in spelling is attributed to the pronunciation gap between and Arabic and the local language.
It is believed that the city derived its name from the temple of Goddess Mangaladevi. Mangaluru literally means the city of Mangala According to legend Matsyendranatha, one of the important propounders of the Nath cult had arrived at Mangalore with the princess of Kerala, Premaladevi. He named her Mangaladevi. It is believed that they could not proceed further as Mangaladevi died after a brief period of illness and a temple was consecrated in her name at Bolar. Later the Mangaladevi was renovated by the Alupa king Kundavarma in 968 AD.
In the native Tulu language, the city is known as Kudla meaning junction as the city is situated at the confluence of the two rivers  Netharavathi and Phalguni. The Konkani language variant of this Kodial. The region covering Mangalore is known locally as Tulunadu, on account of the predominance of Tulu language