A group of young teachers joined together and started the Canara High School in 1891 at Kodialbail, Mangalore, which was the Mother Institution the Canara Group of Institutions. Mr. Bantwal Padmanabha Baliga, Mr. Arkul Vasudeva Rao, Mr. Bantwal Vaman Baliga, Mr. Udyavar Srinivas Rao and Mr. Adige Padmanabhayya were the founding teachers of the school, who were responsible for starting the school.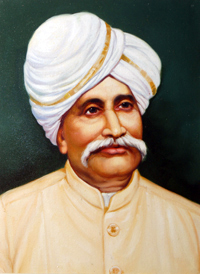 Soon after the commencement of the school, a Board was constituted for its proper management and direction in which Mr. Ammembal Subba Rao Pai played a prominent role. His involvement and physical and monetary contributions for the school are commendable.
Born on 19th November 1852 at Mulky, Mr. A. Subba Rao Pai had his early education at Government College, Mangalore. He then moved to Presidency College Madras, where he graduated in Arts, securing the second rank. He passed his B.L Examination with distinction from the Madras Law College. Even though he wanted to settle down and practice law at Madras, the sudden death of his father in 1876 required him to return to Mangalore. In Mangalore, he earned name and fame as a Lawyer. His desire to empower girls from this area with quality education resulted in the birth of Canara Girls High School in 1894.
The Successive Torch Bearers
Till the year 1972 the CHS Association used to own and manage Institutions imparting only Primary and Secondary Education. In the year 1972 the Association thought of entering the field of collegiate education. The person who was responsible for taking this crucial decision was late Sri. Ullal Gopalkrishna Nayak who was elected President in the same year and continued to hold that office till 1981. The Foundation stone for a Pre-University College was laid in 1972 and under his stewardship; the building was completed in just six months. The Pre-University College was declared open on 2nd July 1972.
Within ten days of the starting of the Canara Pre-University College, the foundation stone for the building of the Canara College was laid by Dr. A.P.Pai, President of Canara High School Alumni, Bombay. The College was declared opened on the 4th of July 1973 by Mr. Holck Larsen, the then Chairman & Managing Director of Larsen & Toubro Ltd. Incidentally, Larsen & Toubro Ltd., is a professionally managed Company with International reputation for its products and with which the erstwhile Canara Bank Ltd. merged after the business of the bank was nationalized in 1969.