Student Welfare Directorate Mangalore University in association with Canara College, Mangaluru organized Chithaara- 2019, an intercollegiate fine arts competition at Smt. Ratnabai Memorial Hall on August 16, 2019.
Dr. B. Udaya, Director, Student Welfare Directorate Mangalore University inaugurated the intercollegiate fine arts competition. In his inaugural address, he expressed his happiness on the participation of 46 colleges despite the calamities in and around Mangaluru. He also said fine arts serves as a platform to showcase students' talents through various forms like cartooning, Rangoli etc. He advised the students to get involved in creative arts which would help not only in bringing out the best in them but also bring laurels for themselves, their parents and the society as a whole.
Chief Guest of the programme Mr. Gopadkar, Director, Swaroopa Kendra said that each one is blessed with an inborn talent with no limitations. Our system of education should focus on bringing out creativity among students through fine arts.
Sri. M. Ranganath Bhat, Honorary Secretary, CHS Association in his presidential address thanked and appreciated Student welfare Directorate Mangalore University for giving Canara College the opportunity to host the event. Sri. C A Vaman Kamath, Alternate Treasurer, CHS Association was also present. Dr. Bhuvana Ramachandran, Convenor, Chithaara 2019, gave a brief introduction and highlighted various events of the competition.
Dr. K.  V. Malini, Principal, Canara College, introduced and welcomed the guests. Mrs. Vani U, Student Welfare Mentor, proposed the vote of thanks. Thara Kumari, Department of Kannada, compered the programme.
Around 229 students from 46 colleges under Mangalore University had participated in this programme. The competitions were in the following category: Poster Making, Rangoli, Clay Modeling, Spot Photography, Collage, On the Spot Painting, and Cartooning.
Valedictory function of Chithaara 2019 was held at Smt. Ratnabai Memorial Hall on August 16, 2019.  The function started with a welcome address by Mrs. Jayabharathi. A detailed report on Chithaara was read out by Mrs. Sandhya, Co-Convener, Fine Arts association. The chief guest Sri. C A Vaman Kamath in his valedictory speech shared his childhood experiences, the opportunities then and now in the field of fine arts and so on. He also spoke on the art of learning and teaching, the importance of perusing a goal in life and achieving it. He took great pride in expressing his happiness that 46 colleges participated in Chithaara 2019.
Dr. K V Malini, Principal, presided over the function. Alvas College, Moodabidri bagged the overall championship and MGM College, Udupi were the runners up of Chithaara 2019. Mrs. Savitha D. K proposed the vote of thanks.  Mrs. Sushma R Shetty compered the programme.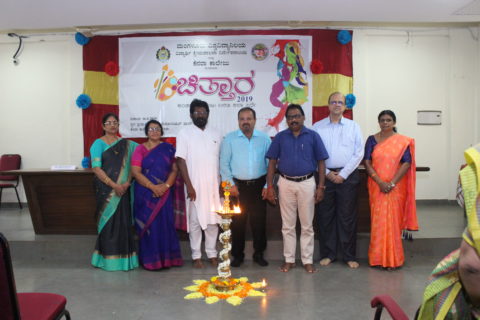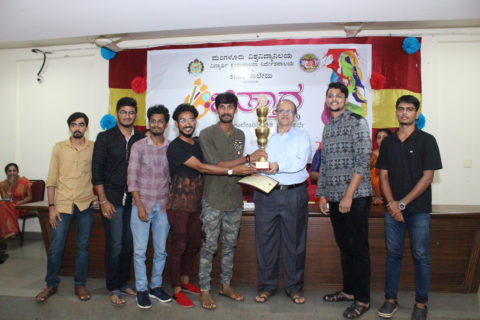 Report By,
Dr. Bhuvana Ramachandran