An awareness programme on "Free Legal aid Services" was organized in Canara College in association with the District law services, DK District Mangaluru, SDM Law College Mangaluru and district consumer federation Mangaluru on Februay 21,2018. Mr. Mallanna Gowda, civil judge and secretary of District law services, DK District Mangaluru, Miss Nelvita Naronha and Miss Raksha, students of SDM Law College Mangaluru were the resource persons of this session. Mr. Vishnu Nayak, secretary and Mr. Jayaprakash member of DK District Consumer information centre Mangalore were also present.
Mr. Mallanna Gowda spoke about laws relating to free legal services, gave information about the working of District court and schemes and services given to the SC, ST and women by the district court. Ms. Raksha spoke about three important issues such as child labor, child marriage and gender discrimination in work place. Ms Nelvita Naronha spoke about Dowry prohibition Act, women safety and maintenance. She also explained about the police working style when a case needs to be filed.
Dr. Manohar Joishi, HOD, Department of Botany in his presidential remarks addressed the gathering that self adherence to the law will make us responsible citizens of  the society. The programme was compered by Prof. Tarakumary, Department of Kannada. Prof. Swathi Nayak proposed the Vote of thanks. Around 100 students actively participated in this programme.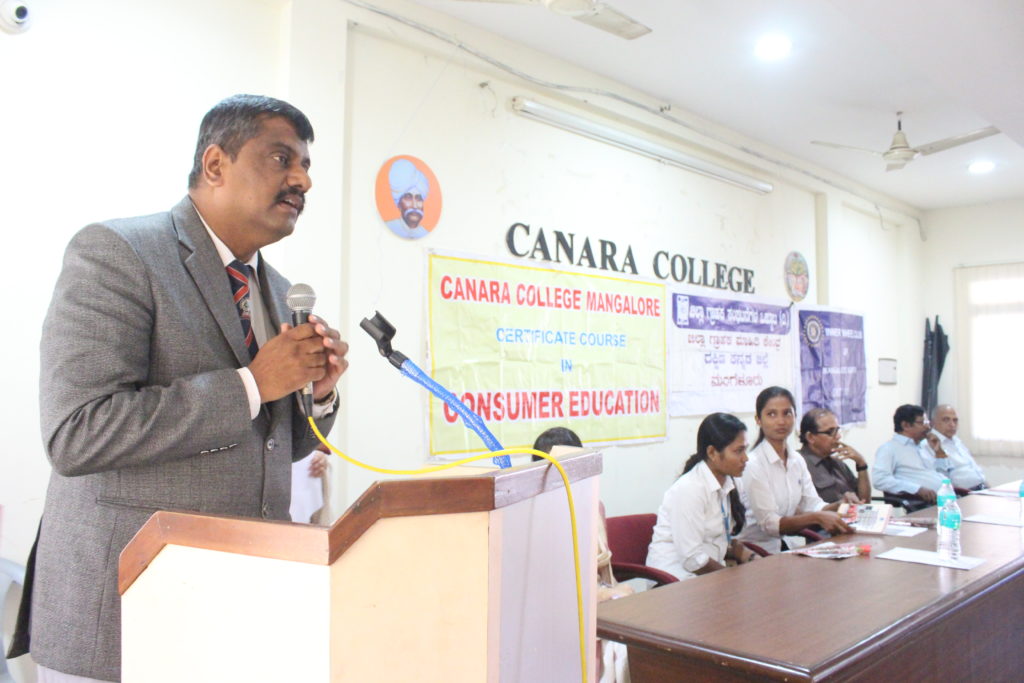 Report By:
Swathi Nayak